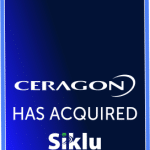 Siklu Millimeter Wave Technology In a Nutshell
Siklu's Millimeter wave (mmWave) products operate in the 60, 70/80GHz frequency bands. These bands features inherent very narrow-beams with over 24Ghz of available spectrum. These characteristics translate into reliable, interference-free, high-capacity connectivity.  Siklu takes advantage of these native benefits for our customers. 

Beamforming in the 60GHz band

SaaS automated network design 

Antenna design and manufacturing processes

Fully Integrated single chip RFIC transceiver and Baseband ASIC
These core technologies drive added value and benefit for Siklu Products.
As a result, Siklu is able to offer:​

The longest range in the industry

Custom high gain, cost effective  solutions* 

Patented beam steering implementation in PtMP configuration

Small form factor products for easier site acquisition

Exceptional range of frequency support in each product

*This project has received funding from the European Union's Horizon 2020 research and innovation programme under grant agreement No 888382
Wireless performance continues to ride a powerful curve of cost reduction and improved performance.  In mmWave this evolving ability to deliver more Gigabits per second at greater distances while prices continue to fall are coupled with massive market demand.  New applications are opening up and existing ones are expanding at a rapid rate.
Siklu offers the widest selection of mmWave products in the industry. This portfolio of 60GHz (V Band) and 70/80GHz (E Band) solutions in both PTP and PtMP configurations allows Siklu to offer complete end to end multi Gigabit Wireless Networks.