This Wireless Network Does All the Heavy Lifting Without Bending Your Budget
Browse through the solutions we provide for different markets:
There are a plethora of applications emerging in the Smart City market that require Mbps and in many cases even Gbps.
Video Security with multiple cameras supporting HD or 4K are becoming the norm, while Public WiFi APs support over 2Gbps connectivity requiring a suitable backhaul connection for support.
Cities cannot afford, nor should they have to pay for, more than one network to deliver all the data of their cameras, WiFi Hot Spots, and even city office connectivity demands.
So how do you extend your smart city network everywhere, on time and on budget? That's where Siklu's field-proven mmWave wireless solutions come into play with multi-gigabit capacities and zero interference. Siklu radios can provide the performance and reliability you need for your smart city network.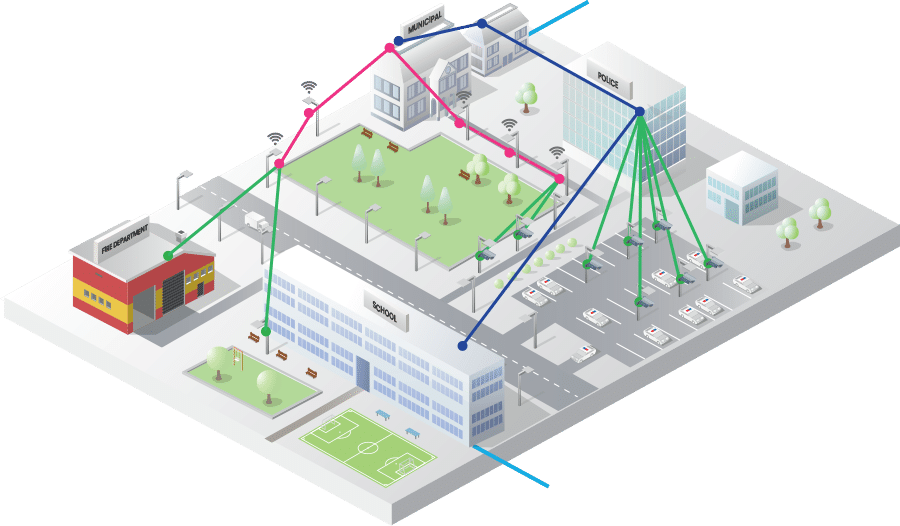 Street Level Connectivity

"The networks have worked flawlessly since it's deployment. Installation in a high traffic high profile area was not only not disruptive, but we were able to complete the initial deployment in days"
From the bright lights of the big city to the bucolic pleasures of small towns in the countryside, municipalities of all sizes have a need to upgrade their networks connecting their administrative buildings and public facilities. Click here to learn about creating a dedicated mmWave Gigabit wireless fiber network to support today's and tomorrow's municipal network requirements.
Siklu is the industry leader in mmWave networks and we have been anticipating for years the boom in IoT connectivity. Click here to learn more.
More and more people want and expect high-speed Internet access everywhere they go – parks, open-air shopping plazas and concerts, downtown business districts – you name it.  Click here to learn how Siklu's mmWave systems can provide the backhaul support necessary for this booming public WiFi traffic.
Click here to learn more about Siklu's mmWave solutions for specialized Smart City video applications.  HD-quality, no jitter video streams in interference free air space, easy "no engineering degree required" installation, power over Ethernet to run multiple 4K cameras and compact radio equipment that easily "blends in" with the outdoor environment.
Siklu offers the widest selection of mmWave products in the industry. This portfolio of 60GHz (V-Band) and 70/80GHz (E-Band) solutions in both PtP, PtMP and Mesh configurations allows Siklu to offer complete end to end multi Gigabit wireless networks.
Smart Cities Resource Library
Brochures

Case Studies

Webinars

Blog

Data Sheet
It seems we can't find what you're looking for.
Looking for more resources?
Find them in our resource library
Here you can find information about additional applications