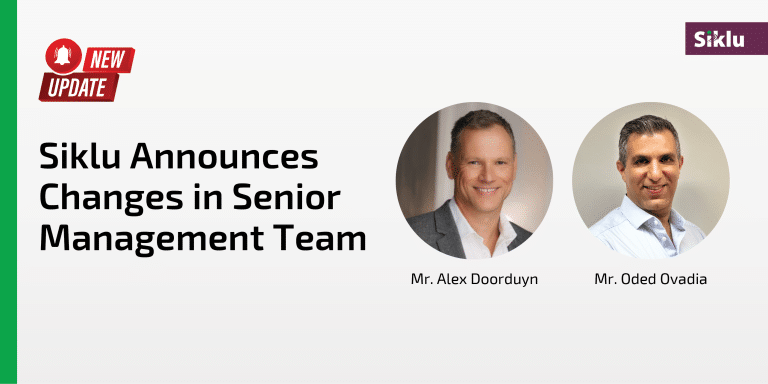 Siklu Announces Changes in Senior Management Team
Petach Tikva, Israel – August 1, 2023 – Siklu, a world leader in millimeter wave (mmWave) solutions for Digital City and Gigabit Wireless Access (GWA), today announced the appointments of Alex Doorduyn to the position of CRO and Oded Ovadia to the position of AVP & GM Wider World Sales and AVP Global Services, effective today. Ilan Moshe, previously CRO, is departing the company after 12 years in which he served in multiple roles and was instrumental in building the company's business in the Americas. Mr. Ovadia takes over for Uri Levi, who in his 13 years with Siklu played the leading role in developing the company's industry-leading customer relations and services operations.
"Both Alex and Oded are ready to assume key leadership roles at Siklu, and we are confident in their abilities to excel and help Siklu maximize its potential across all of our geographies" said Ronen Ben-Hamou, CEO of Siklu. "Since joining the company in 2015, Alex has led the charge in building relationships with customers and partners throughout the Americas in his role as VP and GM Americas and opening new markets for us globally, such as in the physical security and smart city networks sector. Over the last 13 years, Oded has served multiple roles, most recently as Director of Global Business Development where he focused on developing strategic partnerships with Tier 1 Telecom Operators and has helped the company grow in several key markets, including APAC and DACH."
Going forward, Mr. Doorduyn, based in Southern California, will oversee all sales globally as well as continue in his previous role as VP & GM Americas, plus all marketing activities for the company.
Mr. Ovadia, based in Petah Tikva, Israel, will have responsibility for all sales globally outside the U.S and LATAM, as well as the Global Services team, reporting to Alex Doorduyn.